Nestled along Tampa's Riverwalk, the Historical Monument Trail of beautiful bronze and marble busts and monuments tells the story of many noteworthy people and the significant events that have shaped the history of Tampa and Hillsborough County. It is many things: an educational tool for children and adults, for visitors and residents alike; a commemoration of our ancestors that have contributed so much to our life and culture today; and an inspiration to our entire community.
To make the Historic Monument Trail a reality, The Friends of the Riverwalk, in collaboration with the Tampa Bay History Center, established an esteemed group of local honorees and experts to designate  Tampa's ancestors. There are a total of thirty honorees that were designated from 2012 through 2017.
Significant thanks to  Hillsborough County, Beck Group, Bright House Networks, 2012 Republican National Convention Host Committee, Steven A. Anderson and the families of all the honorees.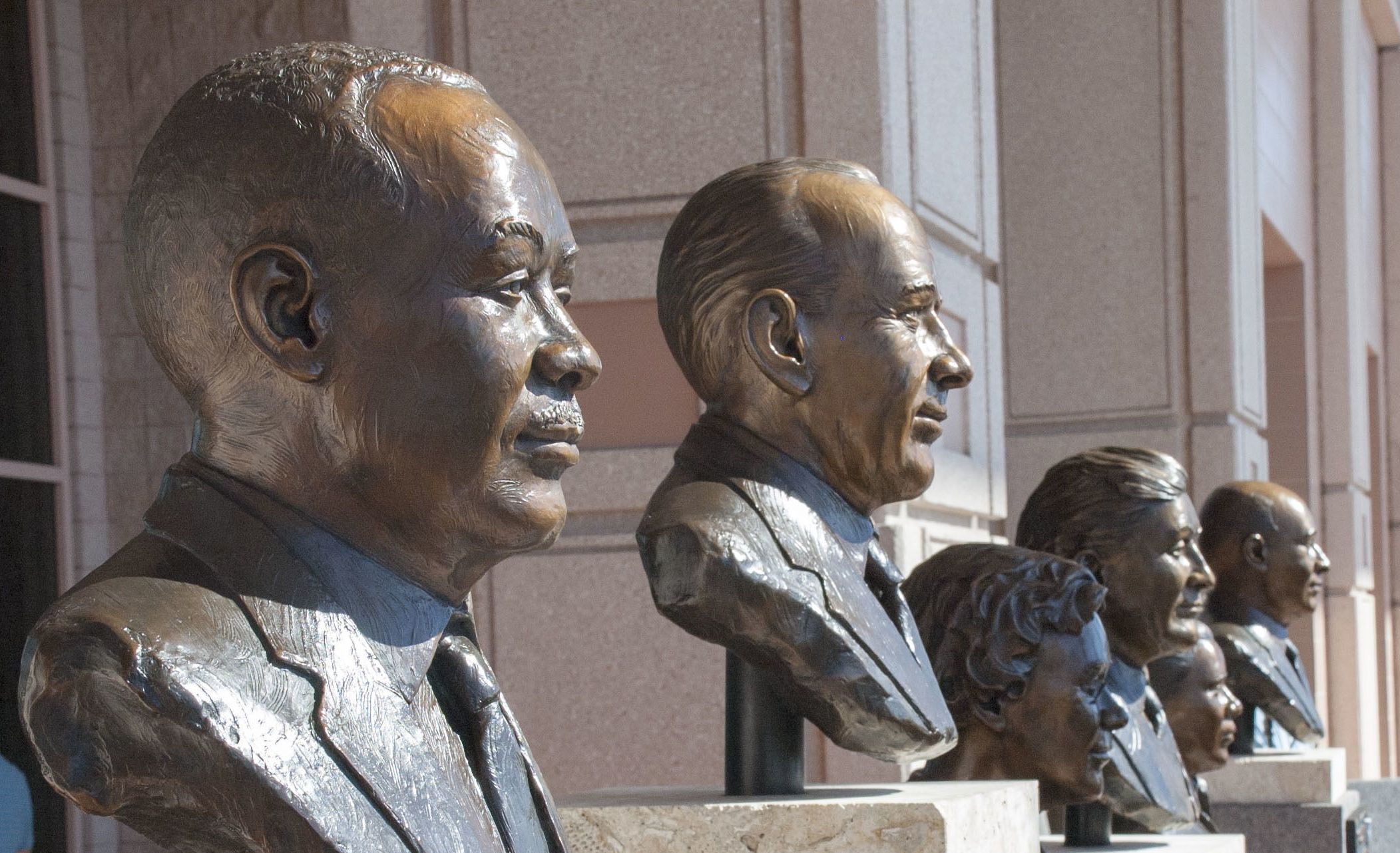 Honorees
Below are the names of Tampa and Hillsborough County's most influential ancestors. Of course, there are many more that will be added in the future.  Please click on the name to access a biography and pictures of the monuments for each of the honorees.
Paulina Pedrosa

(1845-1925)

Prepared by the Historical Monument Trail Selection Committee, Friends of the Tampa Riverwalk. For further information, contact Doris Weatherford, doris@dweatherford.com.

Paulina Pedroso was the most prominent female leader of Cuba's 1895 revolution against Spain. Working directly with Jose Marti, she organized exiles and raised funds that led to victory in 1898. A black woman whose parents were slaves, she also worked to end segregation in Tampa.

Paulina Pedroso was born and died in Cuba, but she ranks at the very top of Tampa's influential black women.

Her parents were slaves, but slavery ended in Latin America before it did in North America, and she was born free in Pinar del Rio in 1845. She married young, and we have no record of her maiden name. In 1860, at age fifteen, she moved with her husband, Ruberto, to Havana; from there they went on to Key West. International borders were not the problem then that they are now.

Much of the Key West cigar industry moved to Tampa in the 1880s, and by then, Paulina Pedroso was a middle-aged career cigarmaker. Unlike most women, she not only had no distracting maternal obligations, but also had an uncommonly supportive husband who was proud of her political abilities.

When Cuba declared its independence of Spain in 1895, she soon was seen as the primary female revolutionary in exile. Jose Marti, Cuba's equivalent of George Washington, stayed with the Pedrosos in the boarding house that Paulina ran at 8th Avenue and 12th Street.

She led other black Cubans in organizing La Sociedad Libres, or Society for Liberty. Analogous to the Sons (and Daughters) of Liberty that existed during the American Revolution a century earlier, the group's primary aim was to raise money to arm rebels against the Spanish government. It ultimately transformed into today's Marti-Maceo Society, named for Jose Marti and Antonio Maceo, a black revolutionary general who died in Cuban warfare.

Exiles plotted strategy at Pedroso's home, but Cuban independence was not her sole goal. She and Marti, who was white, also struck out against the racial segregation that was routine in North America. The great Cuban hero made a point of strolling "arm in arm with Paulina on the sidewalks of Ybor City, demonstrating at once his regard for her and his contempt for racist injunctions."

The Pedrosos did not go back to Cuba after independence was won in 1898, but when they did choose to return during a 1910 strike in the tobacco factories, the new Cuban government honored them. In appreciation for Paulina Pedroso's work with Jose Marti, the couple lived in a rent-free house for the rest of their lives.

She died there in 1925, in her 80th year, and in the 1950s, another revolutionary government in Cuba purchased her former Ybor City home as a shrine. Today the site is a small park, but because it still technically belongs to communist Cuba, it has attracted radicals whose vandalism forces the surrounding fence to be locked.

Governor Lawton Chiles inducted Paulina Pedroso into the Florida Women's Hall of Fame in 1993 – on her first nomination, an honor that few achieve.
---
Historical Monuments Map