LETTER FROM MAYOR JANE CASTOR, CITY OF TAMPA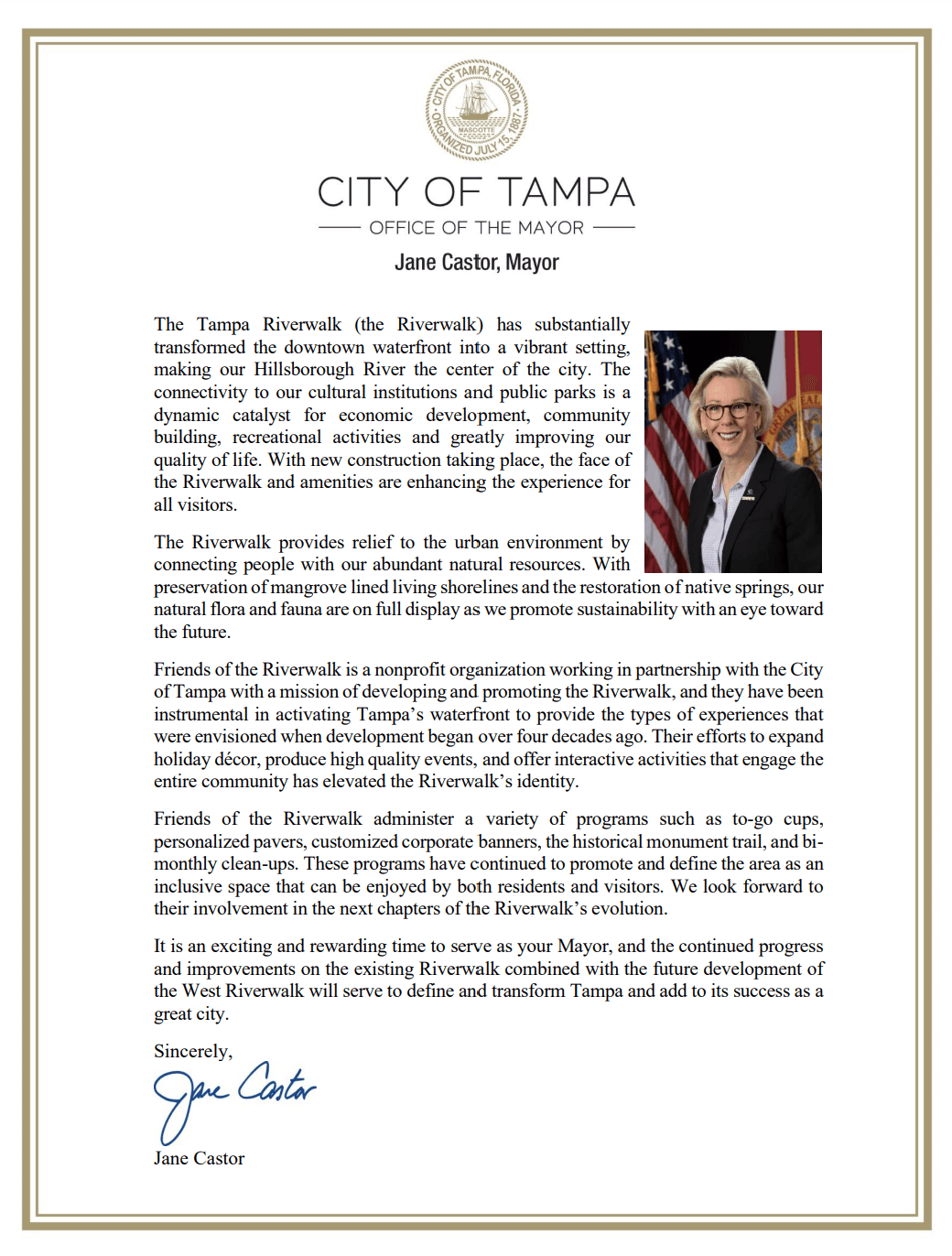 ---
LETTER FROM MARYBETH WILLIAMS, EXECUTIVE DIRECTOR
Happy New Year and thank you to our members, sponsors and volunteers for your continued support during 2022. This year, Friends of the Riverwalk successfully hosted and further expanded our signature events providing free, family-friendly opportunities for residents and visitors to enjoy the vibrancy of the Riverwalk and waterfront.  We continue to support the growth and development along the Riverwalk and adjacent communities improving safety, access and connectivity. It is an honor and pleasure to work with the Friends of the Riverwalk Board of Directors and to lead this organization.  I look forward to continuing the momentum into 2023.
Respectfully,
MaryBeth Williams
---
FINANCES
REVENUE & EXPENSES

Revenue: $240,167
Expenses: $228,771

BALANCE SHEET

TOTAL ASSETS: $881,593
Total Liabilities: $100,677
Net Assets: $780,916

FUNCTIONAL EXPENSES

TOTAL EXPENSES: $228,771
Program Service Expenses: $180,760
Management & General Expenses: $48,011
Fundraising Expenses: $0
---
MARKETING & COMMUNICATIONS
Website
FACEBOOK
TWITTER
---
Other
2,300+

Newsletter Recipients
Bi-Monthly emailed newsletter

1,330+

LinkedIn Followers
since Sep. 2020
---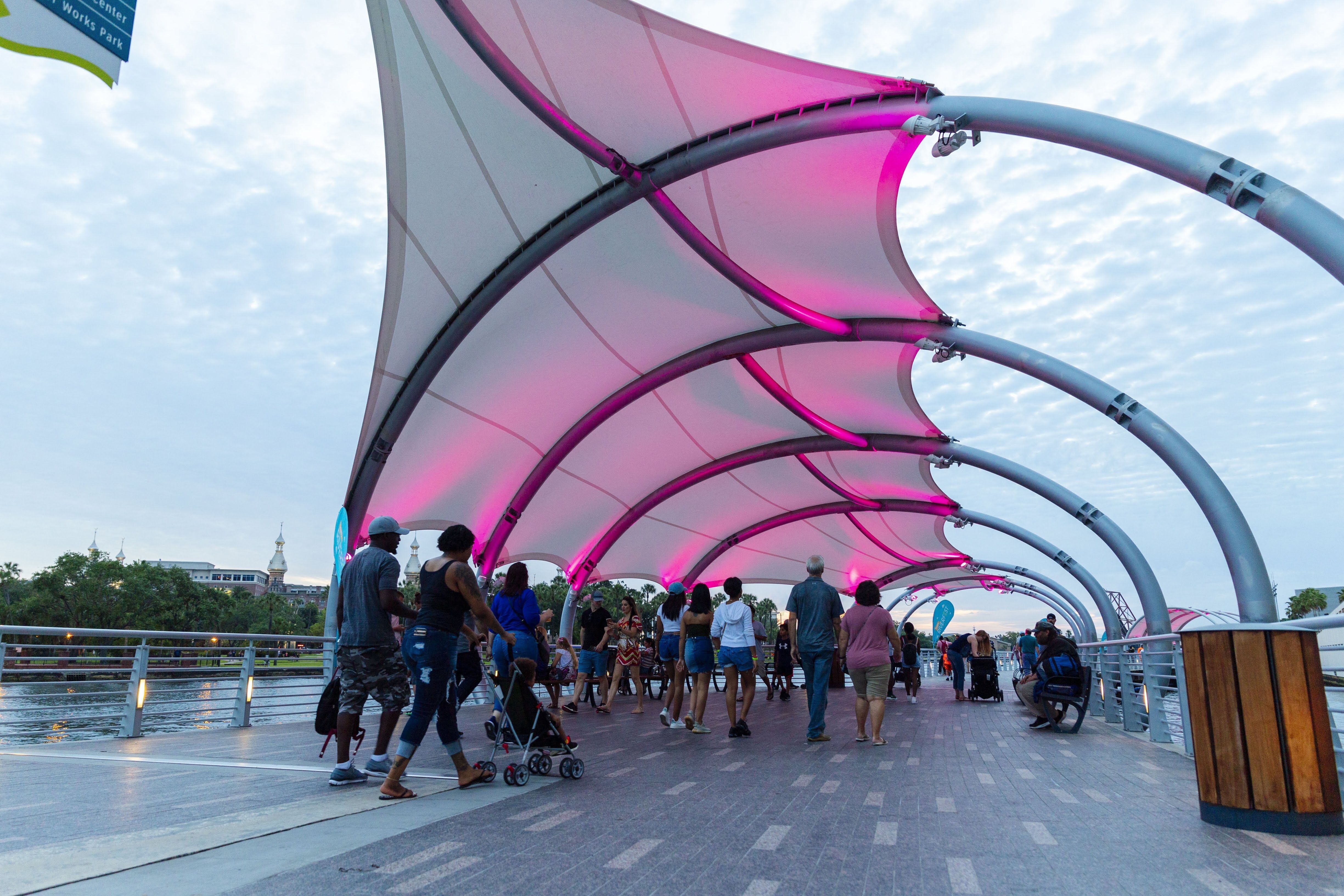 SIGNATURE EVENTS
2022 RIVERFEST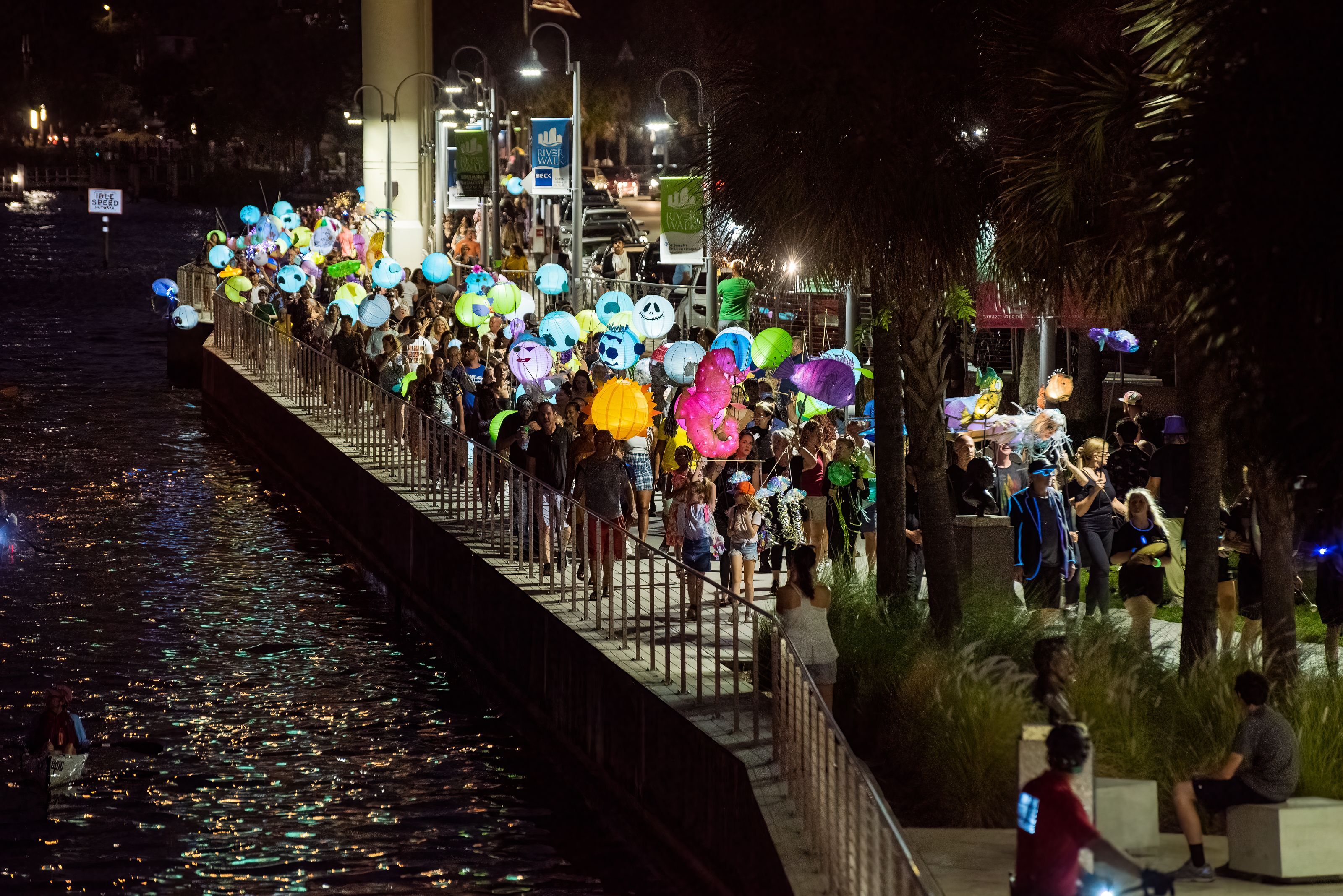 The 6th annual Tampa Riverfest, a public, two-day, free event was held on May 6-7, 2022
The festival spanned over half of the Riverwalk including several parks and featured family-friendly activities and events that showcased Tampa's cultural institutions, local musicians and restaurants. 
The festival included Taste of Riverwalk on Friday night and TacoFest on Saturday. 
There was also a full concert series of local bands on the main stage in Curtis Hixon Waterfront Park and a balloon glow at sunset both nights. 
Hillsborough County Schools music students performed on the Water Works Stage on Saturday and the Pride Band headlined that night. 
Other activities included a wiener dog derby, yoga and a paddle invasion.
Newly added to 2022 was the Riverfest Lantern Parade. We had 100s participate in parade from Water Works Park to Curtis Hixon Park. 
VIP tickets were sold where patrons had the opportunity to access a private tent, private section in front of the main stage, all inclusive drinks and food and private restrooms.
Thousands of residents and visors attended the event that included over 20 vendors.
Estimated attendance 20,000
Sponsors included AVE Tampa, Baker Barrios Architects, Inc., Beck Group, Bliss Wellness Market, Brew Bus Brewing, Bush Ross, Coastal Construction, Couch Family Foundation, Disney, ECS Florida, Famous Tate, Florida Aquarium, Freedom Boat Club, Diamond Resorts, Glazer Children's Museum, GTE Financial,   J&JRealty Group, Life Guard Imaging, Mad Bear Productions, Marriott JW and Tampa Marriott Water Street, Milo's Tea Company, Inc., Pepin Distributing, Inc., Re/Max Alliance Group, Redstone/Lincoln Center – Westshore, Regions Bank, Saint Leo University, Splitsville Southern + Social, State Farm, T-Mobile, Tampa Bay Lightning, Tampa Bay Rays/Rowdies, Tampa Downtown Partnership, The Leytham Group, Tito's Handmade Vodka, University of Tampa, Urban Kai, Valley Bank, Verra Mobility, Visit Tampa Bay and Wade Trim
The Downtown and Heights Community Redevelopment Areas (CRA) and Hillsborough Special Events Partnership Grants assisted with the expenses
2022 July 4th Boat Parade & Water Ski Show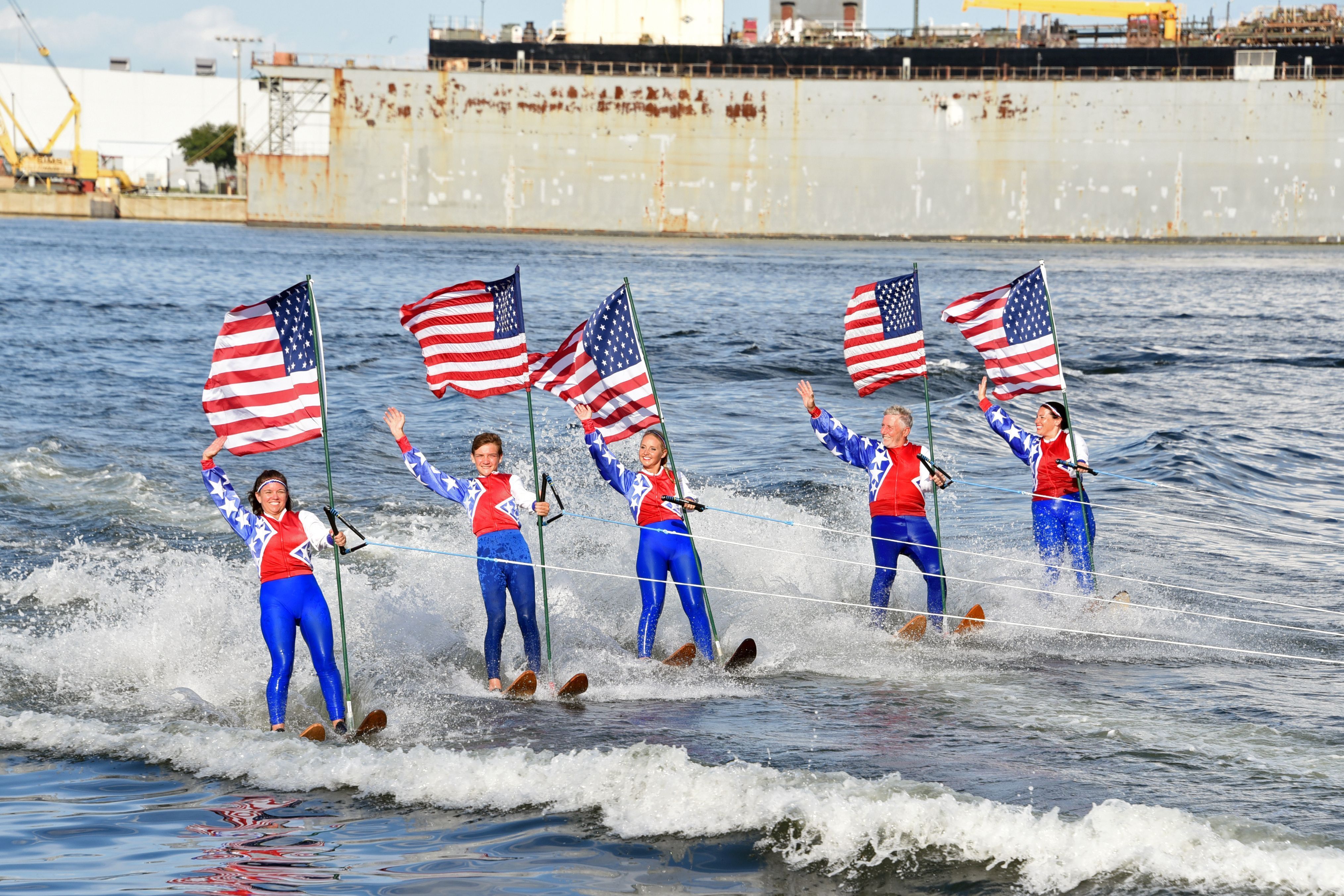 The 2nd annual July 4th Boat Parade, Water Ski Show and Blessing of the Fleet, a part of Mayor Castor's Boom by the Bay festivities, was held on July 4, 2022 and included:
A free, safe opportunity for families to enjoy the 4th of July, the waterfront and the Riverwalk
50 boats registered and several hundred boats were festively decorated along the route
New this year, an electronic poker run that included 4 QR code checkpoints along the route for boaters to check in and qualify for prizes.
In addition to this, we added a Water Ski Show to kick it all off!
A blessing station at the conclusion of the parade with Deacon Ron providing each boat a blessing for a safe and fun boating season
The Blessing of the Fleet is a tradition that began years ago but is still practiced in many fishing and boating communities around the world to ensure a safe and bountiful season. 
Thousands of spectators lined the Riverwalk and parks to enjoy the patriotic boat parade
Boats were decked out in red, white and blue and competed for the most patriotic boat trophy. Registered boaters participated in a Poker Run for a chance to win a grand prize and several other great prizes! The boat parade was followed by fireworks displays at Sparkman Wharf.   
Judges were pairs from Big Brothers & Big Sisters of Tampa Bay
The most patriotic boat was awarded a trophy and prizes and best bolts decorated boat was awarded a swag bag provided by the Tampa Bay Lightning  
Boat Parade sponsors included Freedom Boat Club of Tampa Bay, Water Street Tampa, Hillsborough County, Yacht StarShip, Mullet Spiked Seltzer, Splitsville, Pirate Water Taxi, Statefarm, City of Tampa, High Seas Low Rates Boat Insurance Specialist, and Valley Bank.
The Downtown and Heights Community Redevelopment Areas (CRA) and Hillsborough Special Events Partnership Grants assisted with the expenses
2022 RIVERWALK TRICK OR TREAT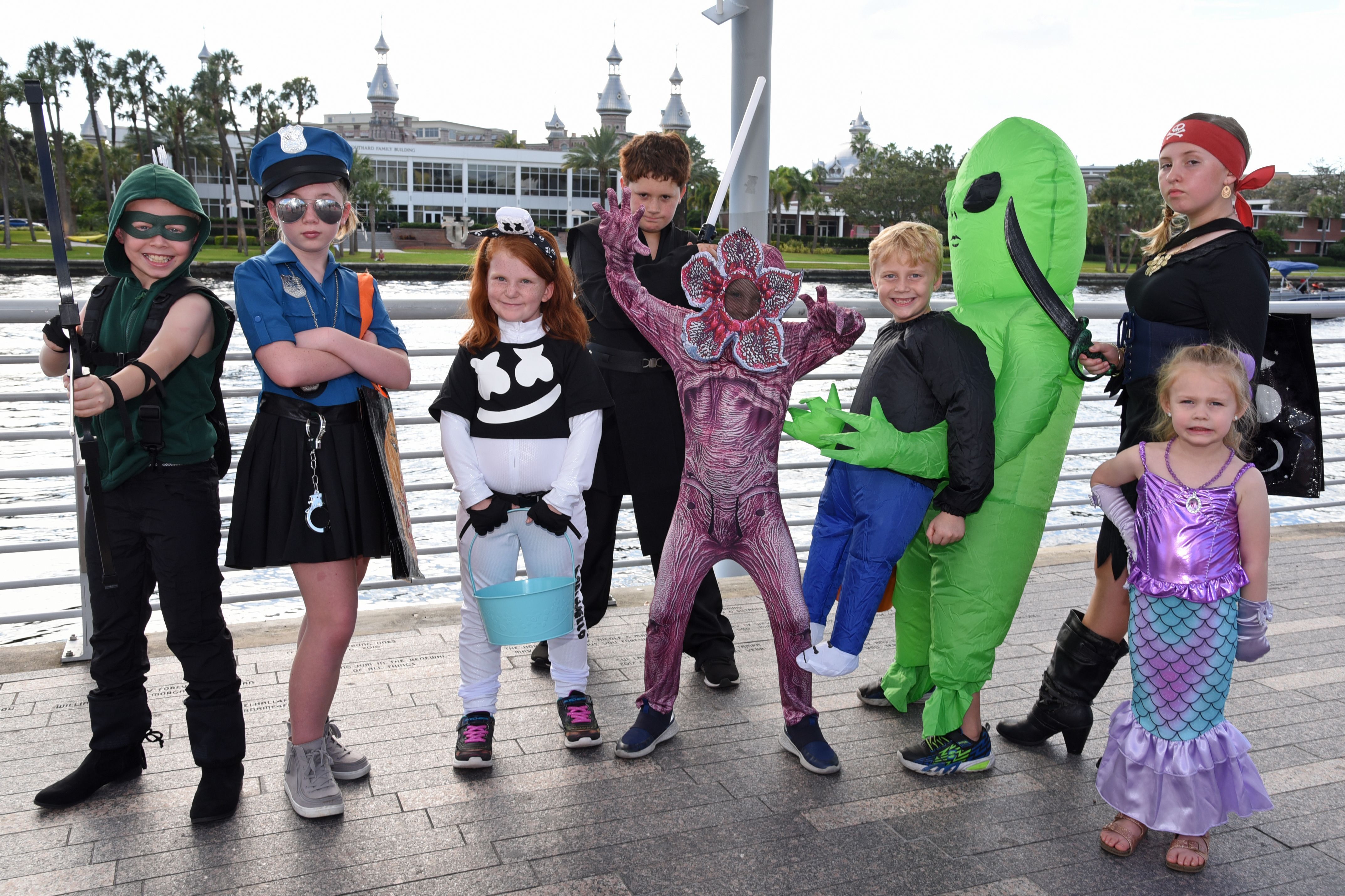 The 6th Annual Riverwalk Trick or Treat, another free, family-friendly, community event included:
50 treat stations from Water Works Park to MacDill Park
1.7 miles of Riverwalk
12 community sponsors included Ashley HomeStores, Banko Overhead Doors, Busch Gardens, Clear Channel, Hendrick Roofing, Hillsborough County CAP, iHeart Media (Rumba 106.5), Nirvana Title Co., Tampa Family Health Centers, TGH Urgent Care and Yob Family Foundation
5,000 trick-or-treat bags distributed
20,000 estimated attendance
3 Riverwalk parks activated – Water Works Park, Curtis Hixon Waterfront Park, and MacDill Park
3 DJs – one at each park
8 food trucks – several in each park
2 photo stations along the trick-or-treat route
Movie on the Lawn featuring The Addams Family (2019)
1 Pumpkin Patch & Pumpkin Painting
1 Spooktacular Bar offering alcoholic drinks for adults
Costume Contest – 3 age groups, 4 winners in each age group
Pet Costume Contest – 2 groups, big & small pets
Costume Contest Judges were National Pediatric Cancer Foundation Warriors
Halloween Lighted Boat Parade hosted by the National Pediatric Cancer Foundation and Friends of the Riverwalk following the trick-or-treat event
Mayor Castor was onsite to kick it all off!
All proceeds were used to cover the cost of the event and the excess was applied toward future events to continue providing FREE community events to the public
The Hillsborough Special Events Partnership Grants assisted with the expenses
2022 HOLIDAY LIGHTED BOAT PARADE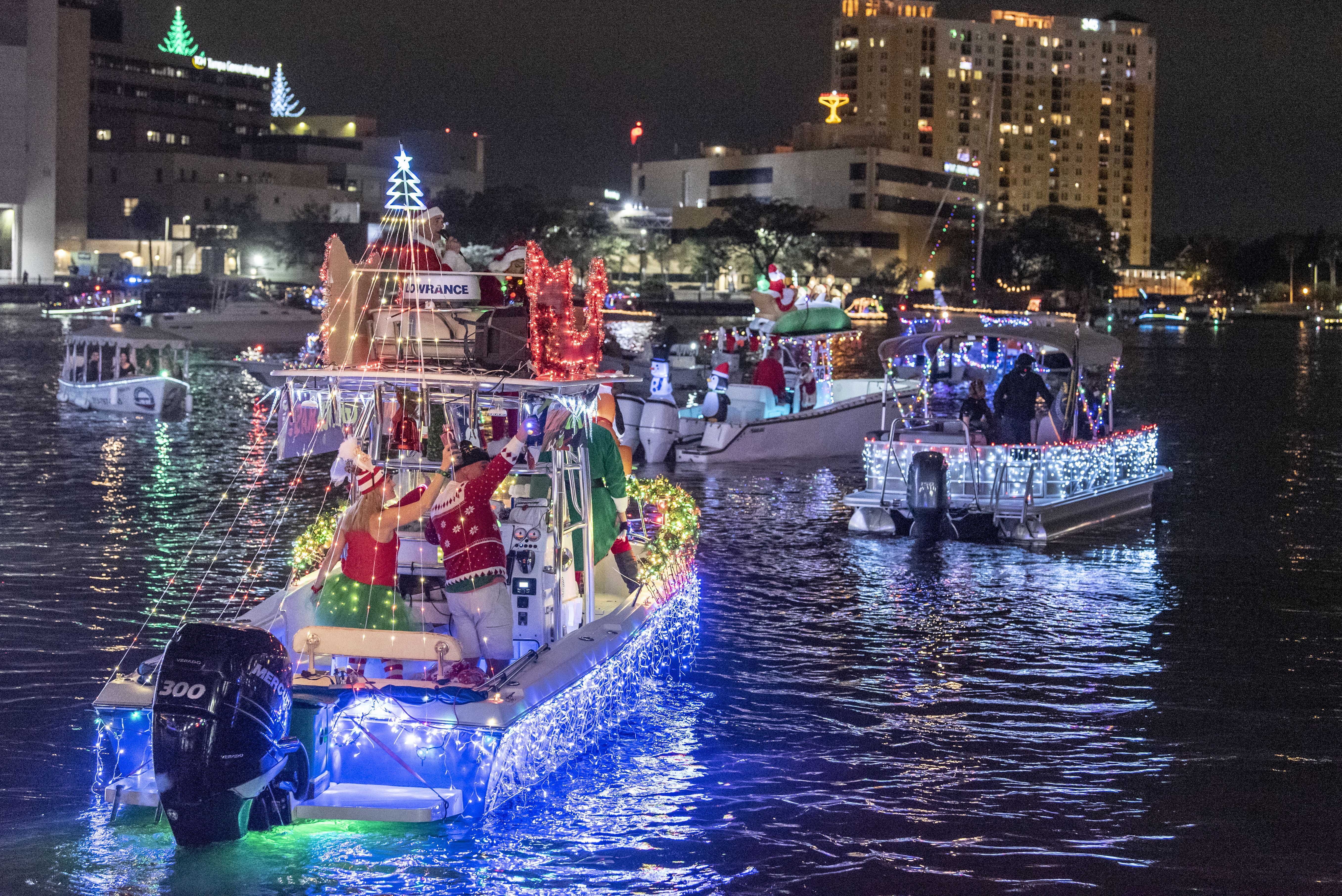 On December 17, 2022, we another successful Holiday Lighted Boat Parade, presented by Yacht Starship and Pirate Water Taxi, that included:
100 boats registered and several hundred boats were festively decorated along the route
Titus O'Neil served as the grand marshal of the boat parade this year
Event was live streamed by WTSP
A VIP Section was available for patrons to watch the parade at Sparkman Wharf
Judges were pairs from Big Brothers & Big Sisters of Tampa Bay
Trophies and prizes were awarded to 1st, 2nd and 3rd place best-decorated boats in the small and large boat categories
All boaters received prize packages at the Captain's Party sponsored by Splitsville
Supporting sponsors included Friends of the Riverwalk, Armature Works, and StateFarm
The Hillsborough Special Events Partnership Grants assisted with the expenses
2022 HOLIDAY SPECTACULAR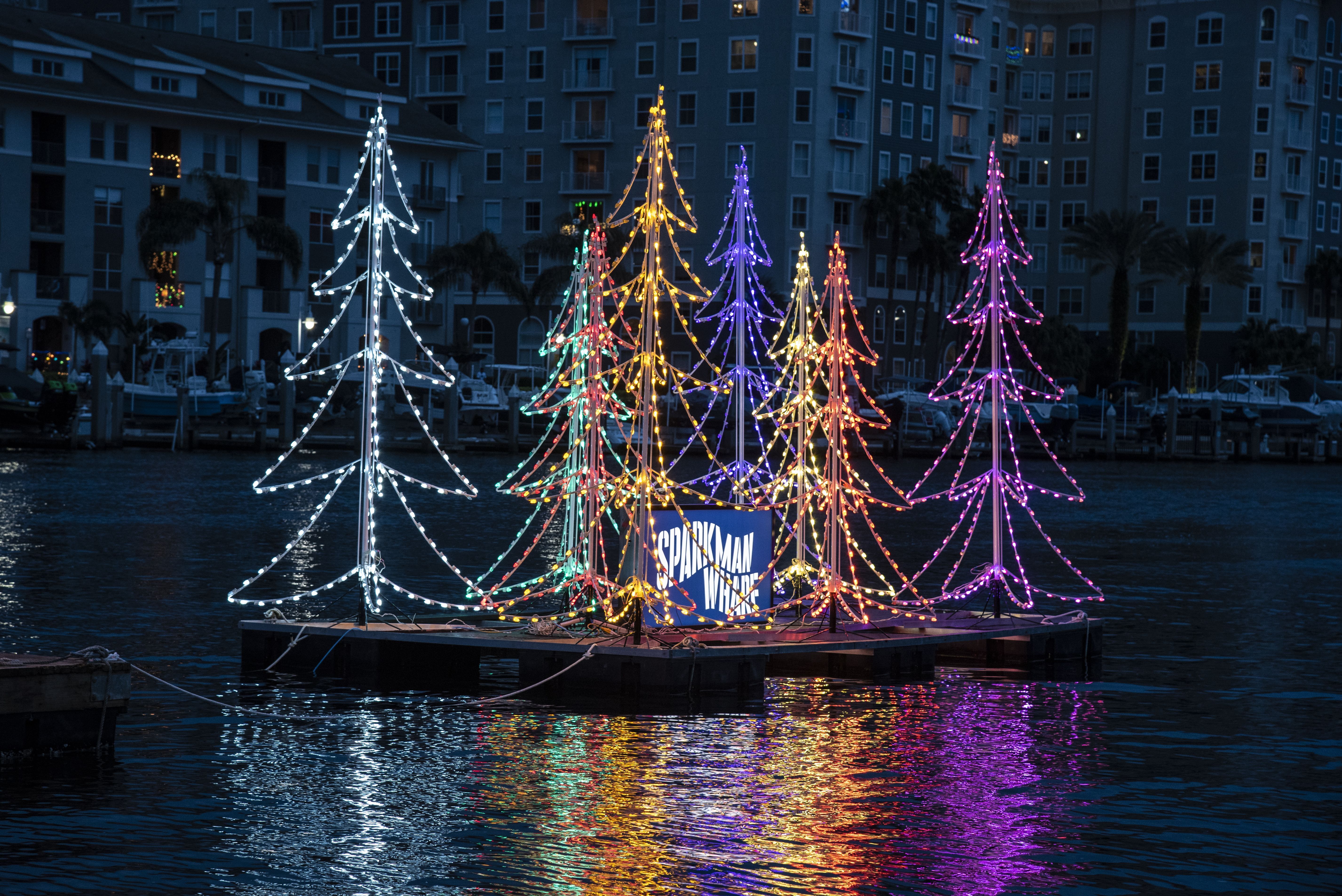 Our fourth year of spectacular holiday lights along the Tampa riverwalk presented by Mosaic displays included:
A 35′ tall LED lighted Christmas tree that floated in the Convention Center basin
A holiday selfie station at the Pirate Water Taxi ticket booth
Lighted garland and red bows on the Riverwalk light poles
The festively decorated gazebo in Water Works Park
12' lighted Christmas tree display on the WWP boat dock
The Grand Oaks in Water Works Park were aglow with thousands of twinkling white lights
A gingerbread lighted display floating in the river by Water Works Park
A toy train lighted display floating in the river by Water Works Park
A Teddy on a Toy Horse lighted display floating in the River by Water Works Park
A 14' Pirate Ship lighted display floating in the River by Water Works Park
A 21' Pirate Sword Fight lighted display floating in the River by Water Works Park
A Pirate with a Spyglass and Treasure Chest lighted display floating in the River by Water Works Park
Two lighted Pine Tree Forests floating in the River by Cotanchobee Park
Florida-themed holiday selfie station located at Laurel Street presented by Barrymore Hotel
New this year, a 22' Pirate Ship lighted display floating in the River by Water Works Park
The holiday spectacular event ran from Nov. 26–Jan. 2
2022 Riverwalk Clean-up Facts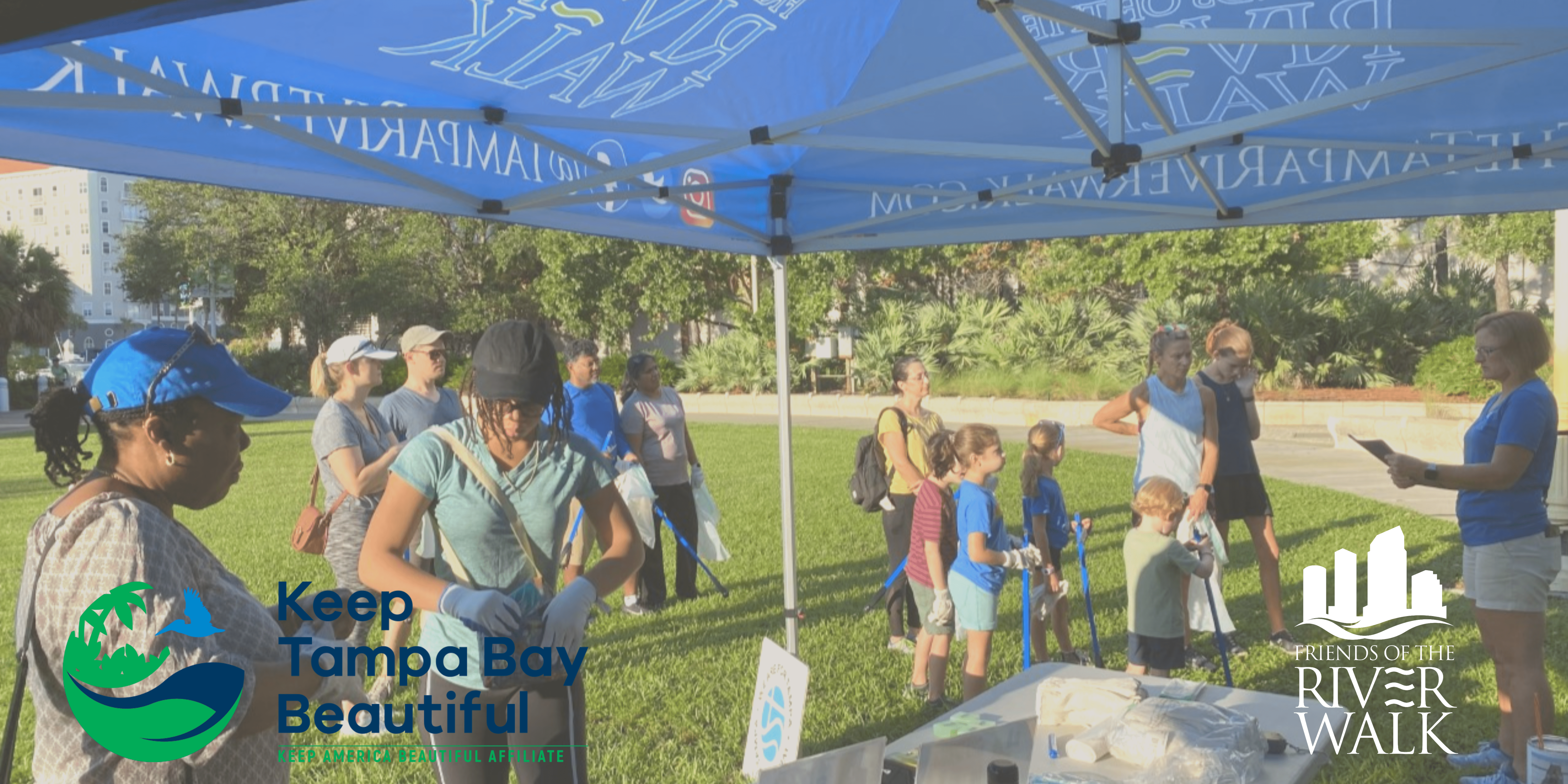 Friends of the Riverwalk hosted several Riverwalk clean-ups this year in partnership with Keep Tampa Bay Beautiful.  Trash caught in our waterways tends to wash up on the Riverwalk shoreline specifically around USF Park and Cotanchobee Park where there is plentiful mangrove vegetation.  Riverwalk volunteers work tirelessly to keep our Riverwalk, waterways and shorelines free of trash and debris.  Consider volunteering at our next clean-up and make a difference! 
6 clean-up events
173 volunteers
17 hours
180 bags of trash
868 pounds of trash
---
PROGRAMS
BANNERS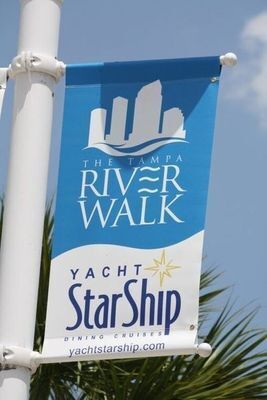 Friends of the Riverwalk continued its successful corporate program in 2022. Corporate members and local businesses promoted their business and special events with the corporate banner program. Foot traffic along the Riverwalk exceeds 100,000 visitors each month.  Banners are displayed along the Riverwalk year-round to enhance the brand of the Tampa Riverwalk, as well as to promote our supportive members.
There are 110 light poles along the Tampa Riverwalk with 202 available banner spaces. 41 organizations advertised on Riverwalk banner space during 2022.
---
RIVERWALK SPECIALTY CUPS
This program allows individuals to exit a licensed premise within the Riverwalk Specialty Center and possess and consume the alcoholic beverages anywhere within the confines of the Riverwalk open container area between the hours of 11 AM and 1 AM.
Participating vendors include:
•    Columbia Café at the Tampa Bay History Center
•    Four Green Fields
•    Hotel Tampa Riverwalk
•    Malio's Prime Steakhouse
•    Marriott Water Street
•    Over the River
•    Pirate Water Taxi
•    Riverwalk Café
•    Straz Center for the Performing Arts
•    The Sail
•    Ulele Restaurant and Ulele Spring Brewery
 
---
PERSONALIZED RIVERWALK PAVERS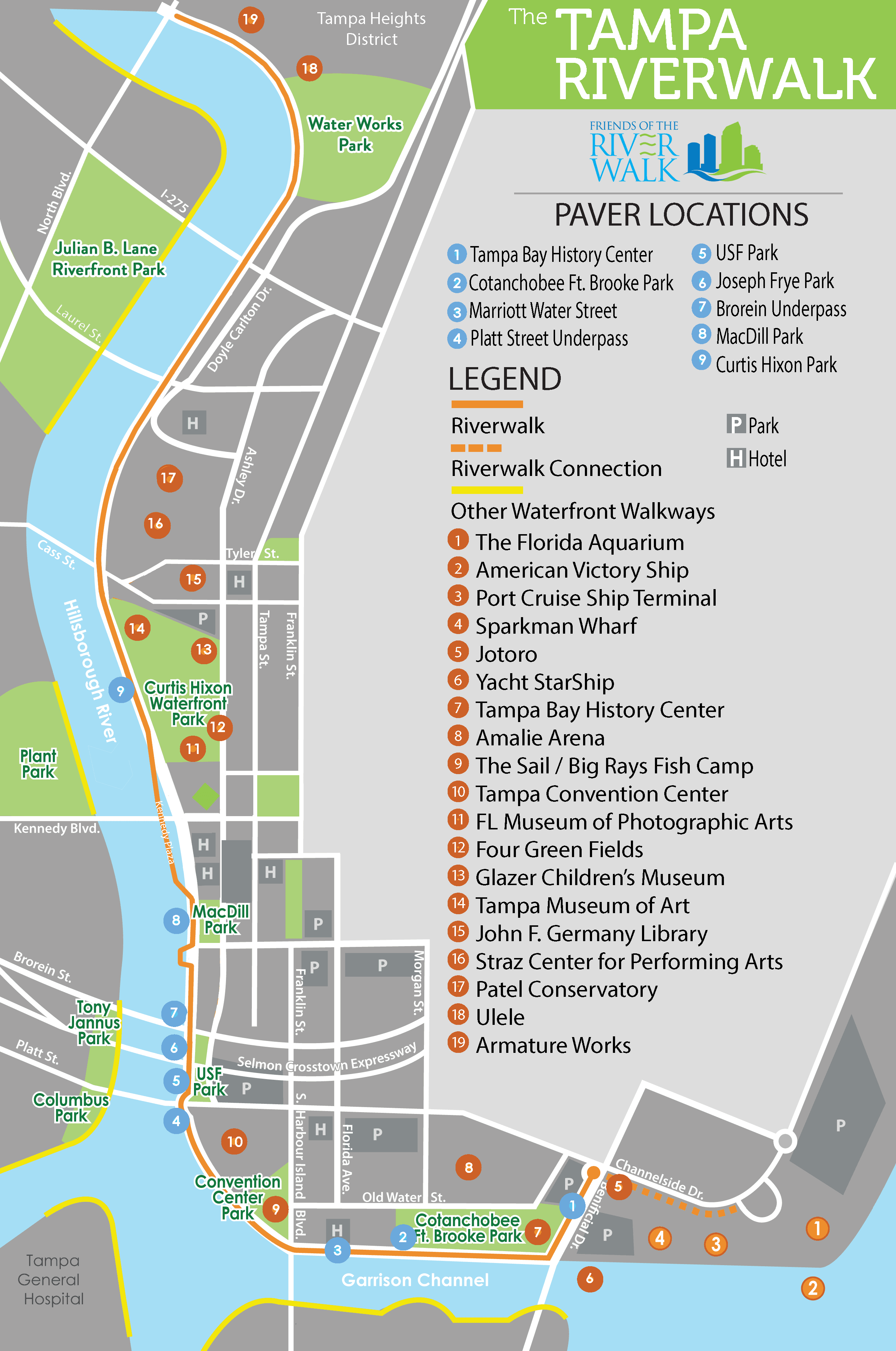 Friends of the Riverwalk continued its successful Paving the Way program in 2022. The Paving the Way program has raised funds for the organization.  It also adds to the identity and sense of place on the Riverwalk, allowing residents and visitors to commemorate special occasions, honor loved ones or share their love of Tampa on a personalized 12"x12" granite paver.
In 2022, 436 personalized pavers were engraved on the Tampa Riverwalk. Many marriage proposals, new additions to families, significant conferences and major events were memorialized on the Riverwalk.  If you have a special Riverwalk paver story, we would love to hear it!
This year we launched our Riverwalk Paver Story campaign, all who purchase a paver, have the opportunity to share their special paver story with us to share on our social media.
---
HISTORICAL MONUMENT TRAIL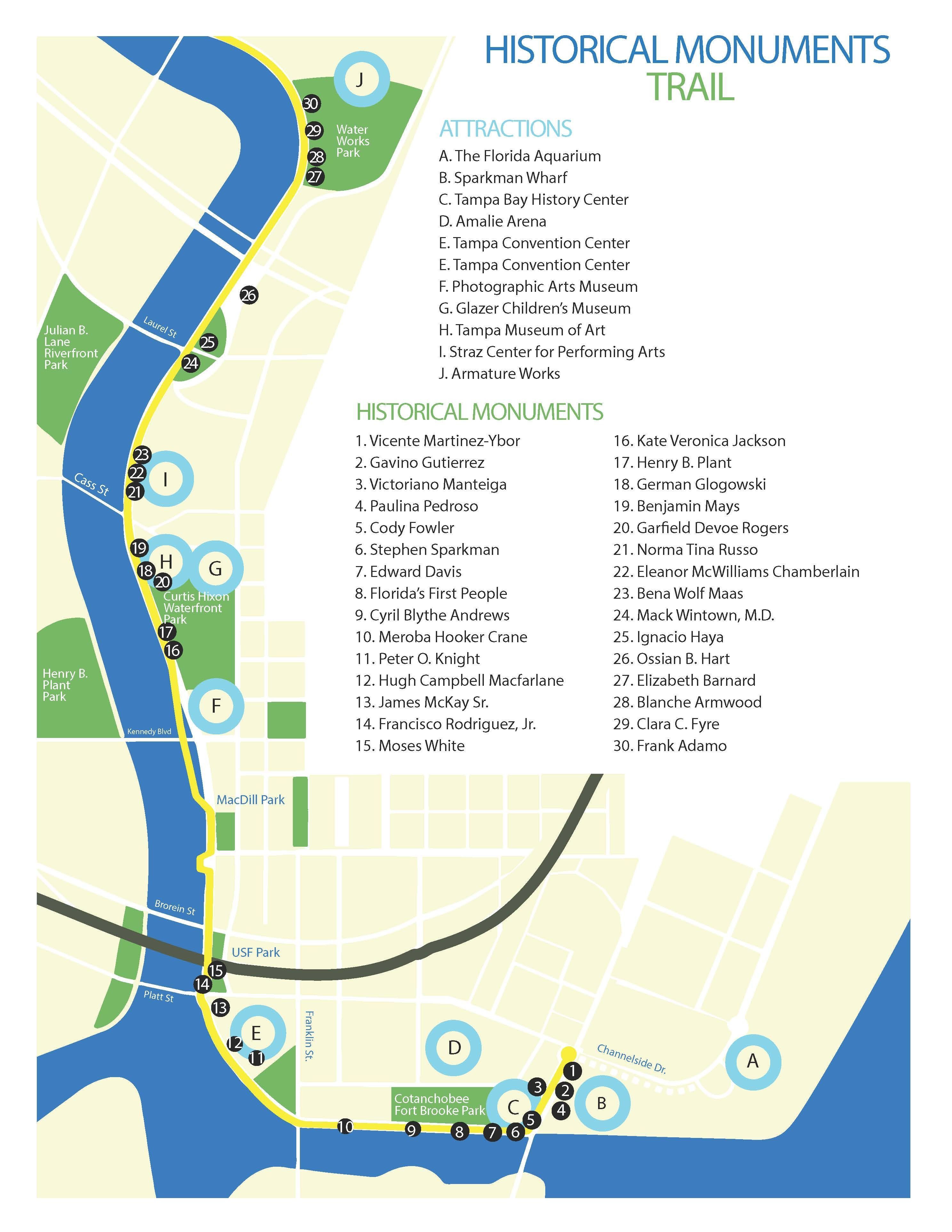 All Historical monuments are placed in their permanent home along the Riverwalk. We encourage residents and visitors to explore the Riverwalk Historic Monument Trail where 30 beautiful bronze and marble busts tell the story of many noteworthy people and significant events that have shaped the history of Tampa and Hillsborough County.
---
TAMPA ATTRACTIONS & RIVERWALK BROCHURE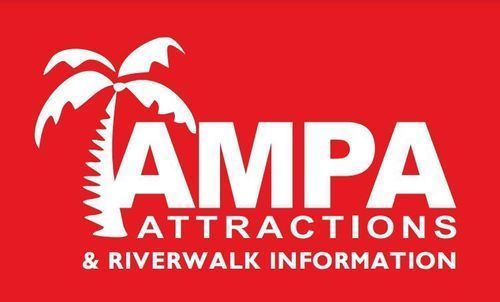 Friends of the Riverwalk once again produced the #1 brochure pulled in racks throughout the Tampa Bay area in 2022. This publication provides great awareness of what our beautiful city has to offer including local attractions and entertainment, hotels, restaurants, transportation options and exciting community events. The brochure is printed twice a year, once in the spring/summer and again in the fall/winter.  More than 150,000 of these brochures are distributed around Tampa, the region and the state.
---
2022 Tampa Attractions & Riverwalk Brochure Corporate Membership
PLATINUM
GOLD
SILVER
2022 CORPORATE MEMBERSHIP
DIAMOND
PLATINUM
GOLD
SILVER
BRONZE
PEARL
---
MISSION
Working in partnership with the city to develop, activate and promote Tampa's downtown waterfront.
VISION
To be America's Iconic Riverwalk.
PURPOSE
Support further expansion and development that increases community access to the waterfront, improves mobility and connectivity and increases people-oriented uses and experiences along the Riverwalk.
Create an inviting outdoor destination showcasing downtown parks, museums, attractions, and businesses through outdoor public events and programming.
Build a stronger sense of community for everyone.
STAFF
MaryBeth Williams

Casey Young

Marketing and Events Coordinator