Join us for our 7th annual Riverwalk Trick or Treat event, on Saturday, October 28, 2023, from 4 pm – 7 pm.  This is a FREE community event!  Children in costume and their families are invited to come and trick or treat along the Riverwalk as well as enjoy fun activities.  We will have over 50 treat stations participating along the Riverwalk from Water Works Park to Curtis Hixon Waterfront Park.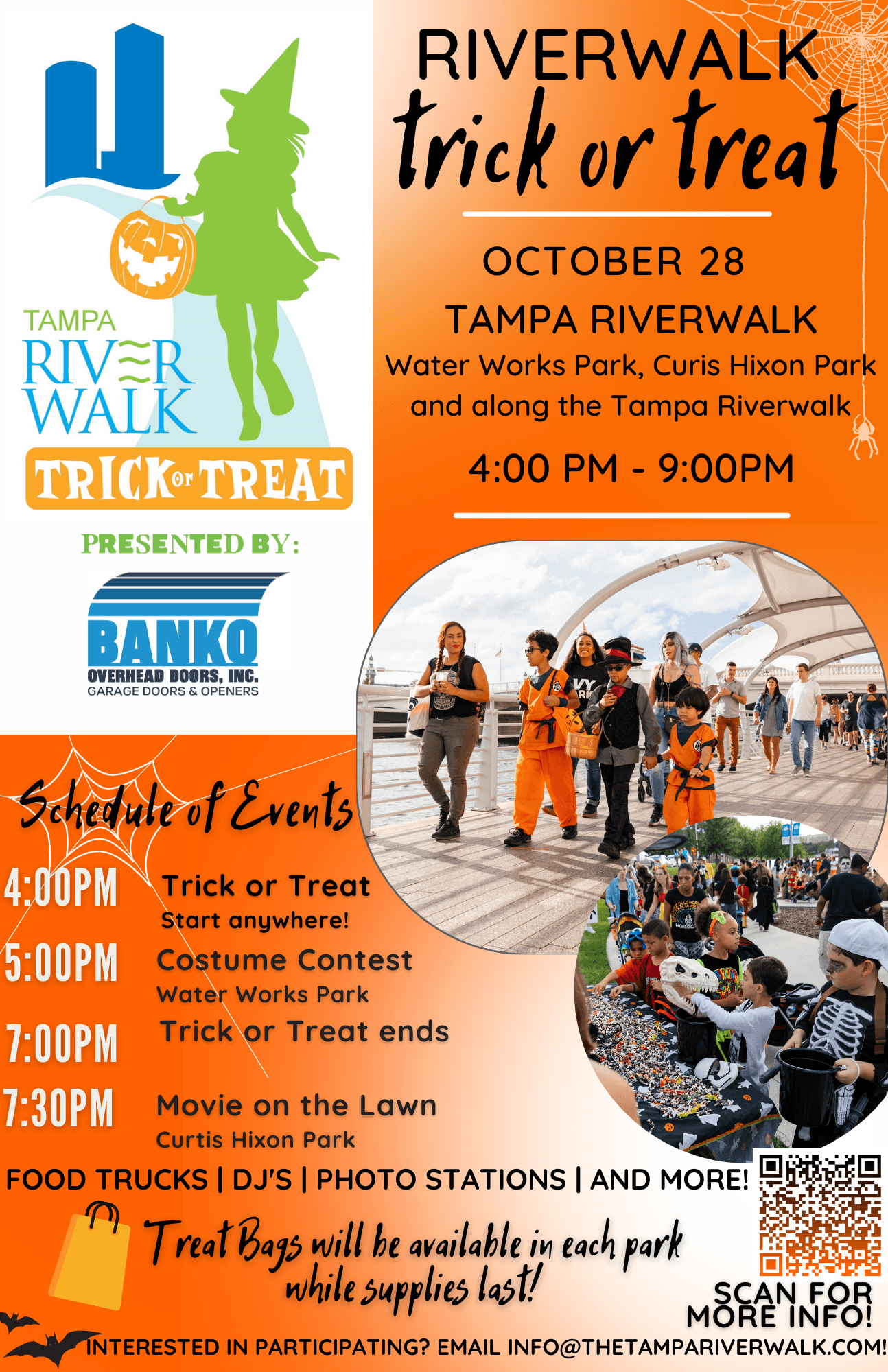 ---
Check out our recap video of 2022's Trick or Treat event! 
---
Thank you to our 2023 Trick or Treat title sponsor!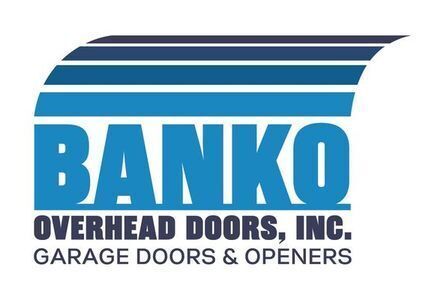 Interested in sponsorship?
For 2023 sponsorship opportunities, please use button below!
For more information, email info@thetampariverwalk.com!
---
COSTUME CONTEST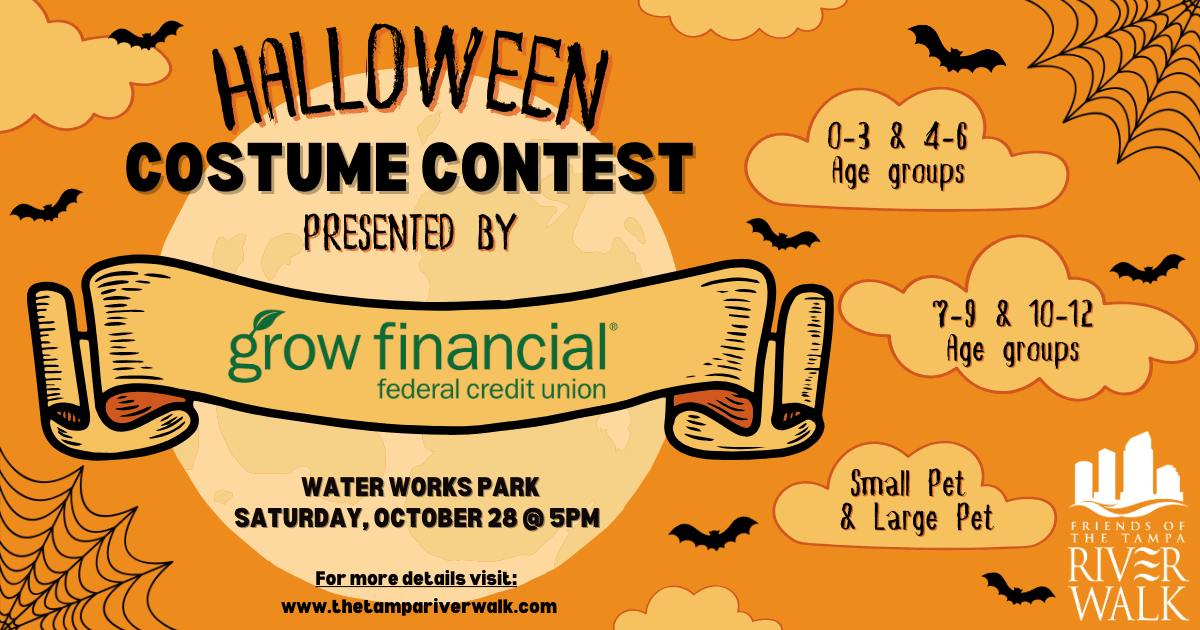 Riverwalk Halloween Kids & Pet Costume Contest presented by Growth Financial
Water Works Park Stage 
October 28, 2023  
Come out and compete for Best Halloween Costume at our Riverwalk Trick or Treat event on Saturday, October 28th. Judges will select their favorite costume in all age groups. Pets that join will also be judged!      
Contest Rules   
Assemble a creative, spooky, funny or imaginative costume and wear it on your body.  
All costumes are welcomed; homemade, magically found, simply appear with a flick of a wand or even purchased or rented.  
Keep your costume "G" rated as this is a family event.
Parents are welcome to walk with children/pets on stage during judging. 
Age groups
0-3 years old
4-6 years old
7-9  years old
10-12 years old
Small Pets (0-24 pounds)
Large Pets (25+ pounds)
Line-up
Located at Water Works Park under the gazebo by the stage.
Participants will line-up at the back of the stage at the time listed below.
Participants will then walk the stage during the contest!
Age Group 0-3:
Line Up - 5:10 PM
Take Stage - 5:15 PM
Age Group 4-6:
Line Up - 5:20 PM
Take Stage - 5:25 PM
Age Group 7-9:
Line Up - 5:30 PM
Take Stage: 5:35 PM
Age Group 10-12:
Line Up - 5:40 PM
Take Stage: 5:45 PM
Small Pets 0-24 pounds:
Line Up - 5:50 PM
Take Stage: 5:55 PM
Large Pets:
Line Up - 6:00 PM
Take Stage: 6:05 PM
---
MOVIE IN THE PARK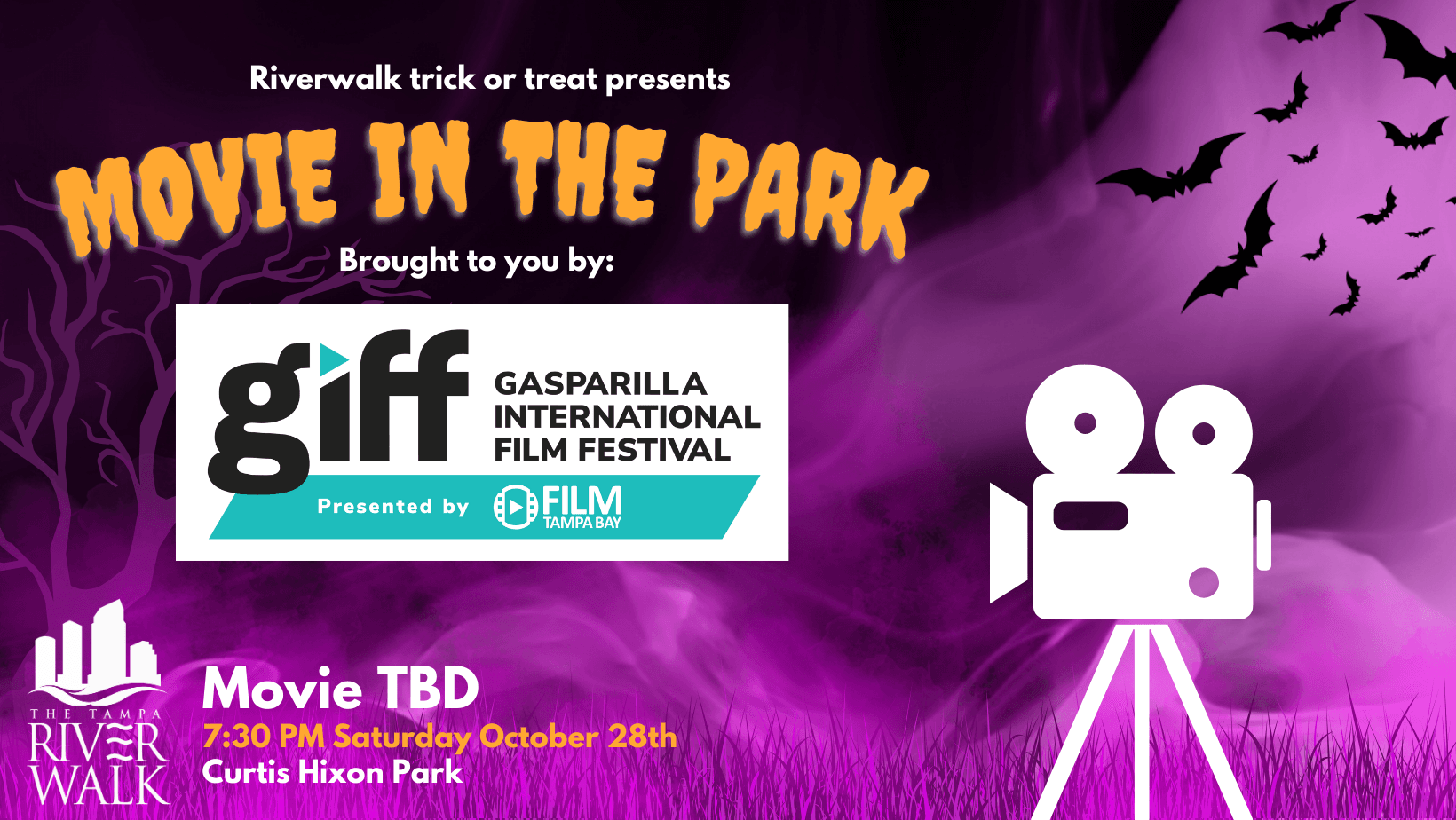 ---
Parking
Where do I park?
Water Works Park
-Armature Works Lots
-Sprouts Parking Garage
-Street Parking on Doyle Carlton
-Royal Street Lot
Curtis Hixon Park
-Poe Garage ($10 special event price!)
-717 Lots
-Street Parking
MacDill Park
-Fort Brooke Garage
-Street Parking
For more parking options please visit the City of Tampa's website.
---
Photos from 2022!
Friends of the Riverwalk 5th annual Trick or Treat event
---
Sponsorships for the Riverwalk Trick or Treat 2023