We'll see you Tuesday, July 4, 2023!
Celebrate July 4th with Friends of the Riverwalk as we host our July 4th Boat Parade, Water Ski Show, Blessing of the Fleet, and fireworks as part of the Star Spangled Banner festivities at Sparkman Wharf. The parade route will be similar to our holiday light boat parade but will include a Water Ski Show to kick off the celebration, a poker run and a blessing station.
Boats will be decorated in red, white and blue and compete for most patriotic boat! We will also provide prize bags for all registered boaters. Check into all our Poker Run stops to be eligible for various raffle prizes!
Registration is required to participate in the boat parade. Spectators are free. VIP is available for purchase to view the parade with seating, drinks and food!
*Tickets and registration are nonrefundable. No reschedule date, parade is rain or shine.
TIMELINE:

4:00 PM - Sparkman Wharf opens
5:45 PM - VIP Opens
6:00 PM - Water Ski Show (Viewing available ONLY at Sparkman Wharf)
6:00 PM - Boat Parade Begins (IMPORTANT: See times below for where/when to view the parade)
6:15 PM Convention Center (limited viewing available due to construction)
6:30 PM Curtis Hixon Park
6:45 PM Armature Works
7:15 PM Davis Islands & Channel Drive
7:30 PM Sparkman Wharf
9:00 PM Fireworks Show at Sparkman Wharf
9:15 PM VIP and Wharf will close immediately following Firework Show
Captain's Party
Don't miss the Captain's Party! To be determined on date and location. The Captain's Party is where you'll find out important information about safety, the parade route and the poker run will be shared.  And all registered boaters will receive a swag bag!
Poker Run Prizes
All boaters who successfully check-in at all four poker run locations will be eligible for prizes! 
---
Parade Route & Viewing Locations
The parade begins in the Convention Center basin, travels to the Heights, and ends at Sparkman Wharf.  Public viewing locations include: 
Armature Works
Channel Drive
Convention Center
Curtis Hixon
Davis Island
Harbour Island
Sparkman Wharf
Water Works Park
See map below for viewing times!
---
Blessing of the Fleet Location
The Blessing of the Fleet is a tradition that began centuries ago in Mediterranean fishing communities. The practice began predominantly Catholic but is now practiced by all denominations as a blessing from the local clergy that is meant to ensure a safe and bountiful season.  Each boat will be festively decorated in hopes of bringing home a prize.  There will be one location at Sparkman Wharf for boats to receive a blessing.  Boats simply need to drive by the station to receive their blessing.
---
Interested in sponsoring the 2023 July 4th Boat Parade?
---
Thank you to our 2022 Sponsors!
We sincerely appreciate our event sponsors.  Without their support, the July 4th Boat Parade & Blessing of the Fleet would not be possible.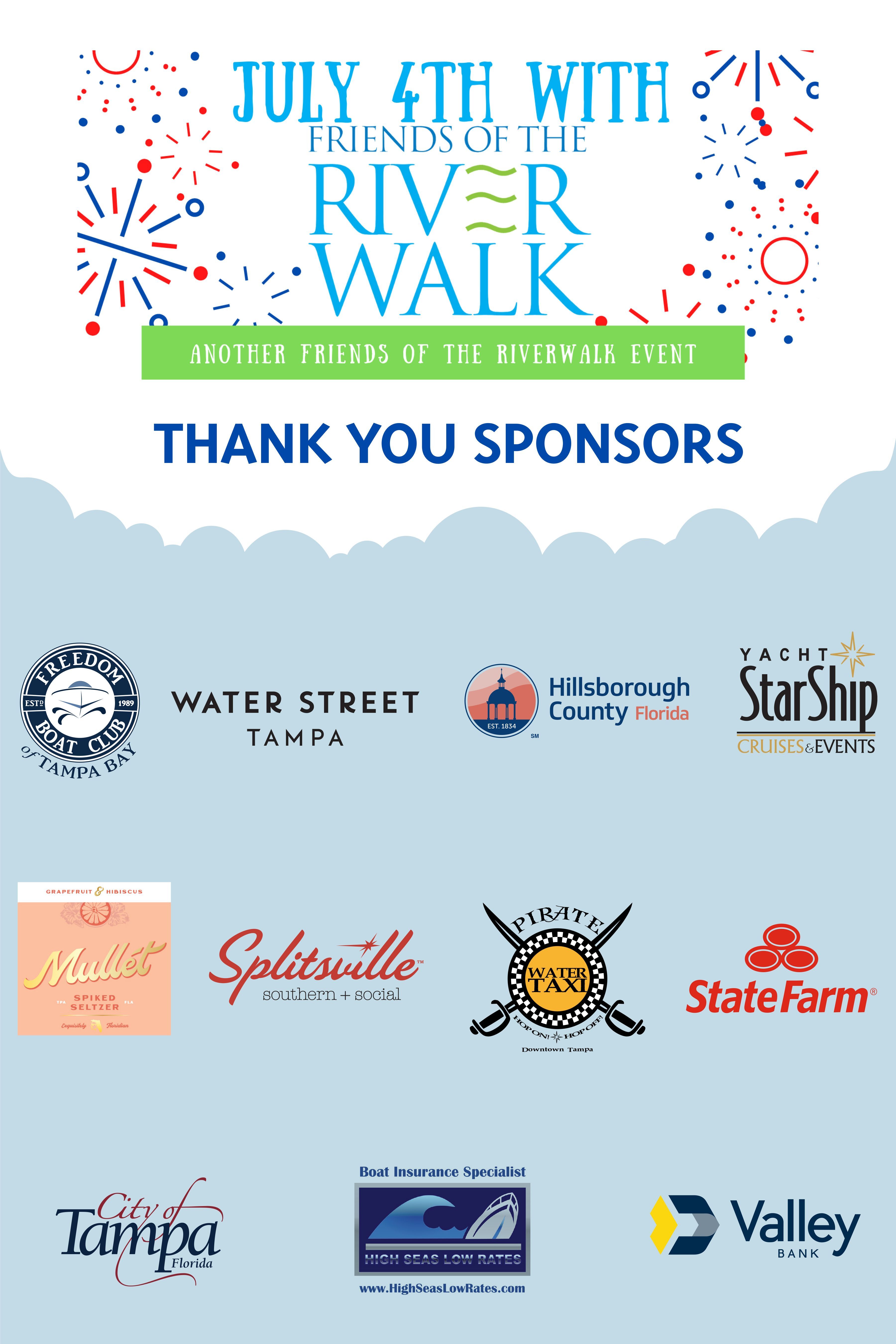 2022 July 4th Boat Parade, Water Ski Show & Blessing of the Fleet
Photos by: Tacy Briggs-Troncoso Photography & PamElla Photography
2022 July 4th Boat Parade, Water Ski Show & Blessing of the Fleet
---
2022 July 4th Boat Parade Winners
MOST PATRIOTIC - #31
BEST BOLTS DECORATED - #27