You'll always know what's going on with our organization.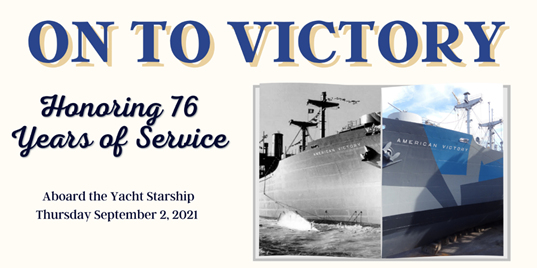 On Thursday, Sept. 2, The Yacht StarShip will host On To Victory, a dinner cruise event supporting the nonprofit organization American Victory Ship and Museum. The SS American Victory, a WWII ship and museum docked in Tampa's Water Street District and listed on the National Register of Historic Places, must be lifted out of the water to undergo extensive maintenance every five years to ensure the ship is safe and seaworthy. This costly maintenance, boiler repair, and USCG inspection is required in order for the ship to continue to serve in the Port of Tampa.
September 2 is an exceptionally significant date in America's history. On this day 76 years ago, the signing of surrender documents took place aboard the USS Missouri and Victory over Japan was declared, effectively ending WWII and restoring world peace. The SS American Victory launched just months prior, and courageously delivered critical supplies to troops throughout the Pacific.
Serving in WWII, Korea, and Vietnam, the American Victory Ship is now a 501c3 nonprofit organization dedicated to community service. Through daily tours, educational field trips, special events, and grants, the ship's staff and volunteers continue to maintain and restore the vessel to its original WWII glory. As a museum and first-responder training platform, and steaming as a memorial salute during annual cruises, the ship acts as a tribute to veterans past and present for their service to our nation.
On To Victory dinner cruise aboard the Yacht Starship will get underway at 6pm on Sept. 2; tickets and tables are available for purchase. In addition to a seated dinner and open bar, the Honorable James "hondo" Geurts, one of America's most distinguished military leaders, will deliver remarks as the event's keynote speaker. Mr. Geurts recently retired from his position as the acting UnderSecretary of the Navy, and is a former Navy/USMC and SOCOM Acquisitions Executive.
Sponsors for the event include: International Ship Repair, Hendry Marine Industries, Tampa Bay Rays, Port Tampa Bay, OWT Global, Bajo Cuva Cohen & Turkel PA, The Bad Monkey, Crowley Maritime Corporation, Pilot Bank, Captain and Mrs. Robert Johnston, Bailey Family Foundation, Odyssey Manufacturing, Captain and Mrs. John Timmel, AR Savage & Son, Quality Roofing Inc., and Walbridge. Troy and Jill Manthey of Yacht StarShip, longtime supporters of the American Victory, are generously hosting this event with all proceeds going towards the American Victory's drydocking.